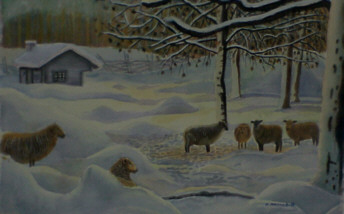 Får i Vårvinter.
På vår dagliga promenader möter vi ofta djur, hästar, grisar och får, men sällan kor tyvärr. Det är trivsamt att titta på dem, och deras sätt att vara. Litet pratstund får man alltid med dem.
Sheep in winterscape.
On our daily walks, we meet different kinds of animals, horses, pigs and sheep. But unfortunally rather seldom cows. they are pleasent animals to observe and there is allways time for a little chat...